HISTORY
Established in 1976 by Phil, Steve and Dave Jack, Jack Brothers have been providing specialised automotive machining services to the Australian motor racing industry for over 3 decades.
From humble beginnings, we have grown to become one of Australia's leading machine shops, providing high quality machining services to many top motorsport teams ranging from Drag Racing to Speedway and V8 Super Cars.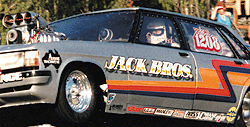 This experience and quality has been developed over many years of research and development and testing at the race track. Jack Brothers have been tearing up drag strips around the country since the mid seventies, winning numerous national events and smashing Australian ET and MPH records.
Jack Brothers continue to stay ahead of the game by introducing new services and advancements in technology to provide you with the best machining work possible. Recent additions include a Rottler CNC machine (1 of only 3 in Australia) and the installation of a climate controlled machine room to keep us at the forefront of technology and to maintain a high standard of excellence.
If you are looking for the best machine work in the country and quality engine performance parts then look no further than Jack Brothers. Give us a call on 07 3341 4000 to speak with one of our friendly staff.