SERVICES
Here's a sample of our quality machining services:
Boring and honing
Torque plate honing
Head and block repairs
CNC machining
Block and cylinder head O'ringing
Lifter-bore sleeving
Piston machining
Cylinder head work
Cam tunnel boring for roller cam bearings
Balancing
Rod sizing
Re-sleeving
Crack testing
Sonic testing
Hot tanking
JACK BROTHERS
Established in 1976 by Phil, Steve and Dave Jack, Jack Brothers is the one-stop-shop for all your performance machining needs. For over 30 years Jack Brothers has been servicing the motorsports industry, providing quality machining, performance parts and exceptional customer service.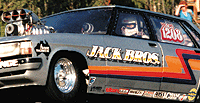 Whatever your machining requirements, Jack Brothers has you covered with the latest Sunnen and Rottler equipment all located within our climate controlled machine shop. From Speedway to Drag Racing, Jack Brothers has a reputation for quality results, exceptional service and experience to produce the most horsepower for your dollar.
If performance parts are what you need, Jack Brothers also stocks a range of quality engine components. So for you next build up or rebuild give us a call on 07 3341 4000 and our friendly staff will help you with the right choice, prices and availability.